SecurePort® 2017


Western Hemispheric
Port Security Conference
and Trade Exhibition
(Details Coming Soon)

Join Government and Industry Leaders For SecurePort Interactive Forums, Presentations and Discussion
(by invitation only)
SecurePort continues to bring together hundreds of top executives within industry and Government from throughout the Western Hemisphere, seeking to build on the foundations originally laid at SecurePort 2004.

SecurePort maintained the successful run of important events. The conference highlighted the integration of the commercial transportation community in the ongoing processes of security planning and crucial multi-level execution. Top industry and Government executives representing a broad range of interests in the Marine Transportation System provided valuable information and foresight, opening many doors to the facilitation of significant dialogue on port security issues and solutions.

Top level port security commercial providers effectively exchanged ideas with port industry executives and Government leaders at ample, well designed networking opportunities. Attendees, sponsors and exhibitors enjoyed a unique by-invitation meeting venue which facilitates discourse between bona fide stakeholders, streamlines on-site networking, and provides business development opportunities for the SecurePort community.

SecurePort provides valuable information and foresight and facilitate dialogue on state-of-the-art security technologies, critical concerns, security and response coordination, and best solutions for the commercial transportation community.

SecurePort Discussion Topics include:
Latest Technology and Process Advancements (OPEN FORUM)
Regional, National and International port and maritime security issues (OPEN FORUM)
Optimization of Security Budgets/Managing Security Implementation & Maintenance Costs
Evaluation of Return on Security Investment
Assessment and Mitigation of Security Risks, Vulnerabilities and Threats
Legislation, Policy and Grants
Review/Evaluation of Port Security Effectiveness & Improvements
Incident Response Evaluation, Management, Action and Coordination
Top level port security commercial providers gather to effectively exchange ideas with port industry executives and security decision-makers; government leaders; terminal operators, carriers, shippers, law enforcement, maritime law, and maritime labor in a well designed networking environment. Attendees, sponsors and exhibitors enjoy a unique by-invitation meeting venue which facilitates discourse between bona fide stakeholders, streamlines on-site networking, and provides business development opportunities for the SecurePort community.

Comments from some of our past participants:


The Honorable John E. Jamian Former Acting Maritime Administrator, U.S. Maritime Administration: "SecurePort is a must attend conference - highlighting interface at senior operational levels - for any country, government or business organization involved in both port security and efficient movement of cargo."
Gary LaGrange, President and CEO, Port of New Orleans: "It is a must attend event. Port security is a collaborative effort undertaken by several stakeholders - regulatory agencies, port authorities, terminal operators, vendors, law enforcement, etc. SecurePort provides an opportunity for all concerned parties to interact, share ideas, and collectively determine best practices in keeping our nations' ports secure."
Bob Sommerfeld, President, Adesta, LLC: "SecurePort has become an indelible conference for those of us involved in port security. Adesta was honored to be the platinum sponsor for Secure Port. This conference has proven itself as a great networking opportunity for port officials and security professionals to come together, define security issues and identify the best solutions available moving forward in the quest to keep our nation's ports operating safely and efficiently. We look forward to playing an ongoing role in this exciting yearly event."
Wade Battles, Managing Director, Port of Houston Authority: "Today port security is a critical component of any MTSA regulated facility. The regulations are changing and the facilities need to stay abreast of their individual circumstances. SecurePort was invaluable in providing the latest information, technology, and best business practices in a clear open format that was a benefit to all facilities and ports, both large and small."
Captain Howard Newhoff, Manager, Security, Royal Caribbean International and Celebrity Cruises: "The SecurePort port security conference is among the best maritime security events, enabling sharing of important cruise and other security perspectives among leading port and security executives as well as high level government officials. SecurePort continued a tradition of providing very informative presentations and panel discussions over a wide range of pertinent port security issues. It also continued to be a strong forum for establishing and maintaining business relationships with the movers and shakers in the maritime port industry."
Chris Kauffmann, Senior Director, Terminal Operations and Seaport Security, Jacksonville Port Authority: "SecurePort was the most professional and valuable port security conference that I have attended in the past 5 years. The agenda and format provided the right combination of formal briefs and open forum discussion addressing the most pressing and challenging issues we all face in securing our country from the threats of global terrorism."
Brad W. Taylor, Senior Account Manager, VUMII: "There are several standard trade shows, and then there is SecurePort. Thanks to the intimate environment created by the Hutman Marketing Corporation there is an energetic flow of information and ideas exchanged by participants and vendors alike who all share the common goal of creating the most effective way to protect our Nation's Ports. It's a truly unique venue."
Robert Scavone, Executive Vice President and General Counsel, P&O Ports North America, Inc.: "SecurePort was a very constructive collection of those people who really make security happen. A solid group of industry and government professionals who can turn theory into practice to produce results."
Mike Hauck, Business Development, SSR Engineering, Inc.: "This was a great venue for us. We were pleased that the Conference area and exhibit area were adjacent. SecurePort is about port security, that is what we are about, so we were able to demonstrate our port security products in a most appropriate close knit friendly forum. In addition the exhibit support staff was fantastic. We shall return!"
Bill Dewitt, Corporate Security Director, Carrix Group/SSA Marine: "SecurePort's reach into diverse presenters, attendees, business sectors, government and ports makes it a very sought after event. In addition, SecurePort is commended on its support of international partners present and the pleasant environment and facilitation of important networking opportunities."
James Barth, Vice President, Business Development, Proximex Corporation: "SecurePort is an excellent forum for those responsible for port security as well as manufacturers of products and services. It had just the right mix of information dissemination, problem discussion and networking. It's well worth the time and money."
Steve Cernak, Port Director, Port of Galveston: "SecurePort is rapidly evolving into an event where we can proactively discuss our issues and concerns related to port security. But perhaps more importantly, SecurePort provides the forum to facilitate solutions as we collectively move forward in securing our nation's ports."
M. George Walters, President, Harbour Mastery, Inc.: "The SecurePort rational that everyone is a participant and has an important voice is a step up from most conferences I have attended where the exhibitors are excluded from critical dialog where they can make a great contribution. We look forward to SecurePort and how we may continue to be of help in furthering this dialog."
Norman Fassler-Katz, Sr. Consultant, Senate Transportation, Sub-Committee on California Ports and Goods Movement: "This was my first opportunity to participate in a SecurePort conference. I was extremely impressed by the quality of the presentations, but even more by the robust discussion by the general body made up of incredibly gifted, talented and dedicated experts."
Steve Parsons, Vice President, Government Services, Senture Security Solutions, LLC: "Faced with the daunting challenge of balancing maritime security requirements and efficient business operations, attendees found SecurePort to be a focused and informative conference. SecurePort provided a collaborative environment where lessons-learned and best practices were openly shared and where attendees quickly realized that unlike many conferences, they received a return on their investment in the form of accurate and timely information."
Cosmo Perrone, Director of Security, Port of Long Beach: "The Secure Port conference was one of the best conferences on port security that I have attended. The participation was diverse and included critical stakeholders from government, industry, vendor, academic, and elected officials. Most of the participants were at the policy and execution levels and were aware of the issues facing the audience. The format allowed for easy engagement of the panelists by the audience in open and honest dialogue about issues in port security."
CAPT Bill Diehl, U.S. Coast Guard: "SecurePort Conference was a wonderful opportunity to interact with our industry partners, see new technologies, and to share security insights on a national level."
Janelle C. Anthone, Vice President Sales, Senspex Security & Surveillance Solutions: "SecurePort was vast enough to encompass key personnel related to port security, but yet intimate and personal with provisions for match-making potential attendees and exhibitors".
Ms. Tobi Moore, U.S. Coast Guard: "SecurePort was the crème de la crème in maritime security conferences."
Jeffrey O. Baldwin Sr., Director Field Operations, Customs and Border Protection, Houston Field Office: "The SecurePort conference was an excellent opportunity to meet with maritime and industry executives to share ideas and provide the latest updates on Customs and Border Protection initiatives."
Joseph Riccio, Executive Director, Bridgeport Port Authority: "SecurePort continues to grow in stature. It is an excellent venue for the latest developments in port security policy and practices."
Patrick J. Hemphill, Security Manager, Port of Wilmington, Delaware: "SecurePort was an outstanding conference with attendance diverse enough to enable meaningful discussion of best business practices as relates port security and current MTSA regulations. It also provided an excellent forum to discuss lessons learned to date and upcoming challenges with TWIC implementation."
Tom Wilson, Global Business Consultants: "The SecurePort conference provided an excellent forum for the exchange of ideas between leaders in federal and local government agencies, and the private sector. The format is ideal for the stimulation of dialog and interaction, as opposed to one-way presentations you typically see. Given the tremendous issues and demands for added port security, the program is exceptionally timely."
Hubert Archambo, Assistant Chief of Police, Port of Corpus Christi: "SecurePort provided not only a great opportunity to meet all of its delegates and speak to diverse groups, but provided very informative presentations and discussions."
CAPT Marcus Woodring, U.S. Coast Guard: "The conference was very valuable in providing opinions with different and diverse viewpoints."
Robert Toker, Consul, Head of Trade & Investment, British Consulate-General, Houston: "Port security planning, operational integration, best practices and technology deployment are extremely important to safeguarding the $4 trillion in annual global trade flows. The conference was a good avenue to link commercial, policy and governmental stakeholders - I came away with some good ideas and some valuable contacts."
Jose Silva, Port Facility Security Officer, Administración, Portuaria Integral-Mazatlan: "Shared experience in these Conferences showed us that security measures against risks and threats must be improved involving Local and Federal Authorities fully committed to the Security".
Bob Rutt, Special Agent in Charge, ICE Office of Investigations, Houston, TX: "SecurePort provided many opportunities for learning and partnership between my agency and those in the maritime community. Our investigators made many very valuable contacts that we hope will help ICE in securing our Homeland".
Gregory W. Brandon, Vice President Security Design & Engineering, TRC: "Secure Port was a success, great turnout of port security professionals."
Ryan Owens, Chief, Maritime and Port Security Branch Transportation Infrastructure Security Division, Office of Grants and Training Preparedness Directorate Department of Homeland Security, Washington, D.C.: "SecurePort was an exceptional conference that provided very useful information and a great venue for discussing port security issues and possible solutions."
Pia Ankerstjerne Vice President, GateHouse A/S: "The SecurePort conference was the first port event in America for Denmark's Gatehouse A/S and provided us the opportunity to introduce our company's solutions and get feed-back from experienced port operators."
Max Bobys, Director, Global Security Initiatives - CIBER, Inc.: "Viewing SecurePort as an excellent opening for developing our opportunities in the Gulf region, CIBER looks forward to continued support to various ports, cruise lines and private companies with waterside security requirements."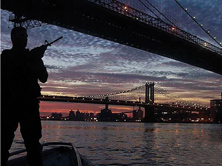 Photos courtesy of SecurePort®, USCG, ICE



Previous Exhibitors / Sponsors